JUNIOR WASTEBUSTER CADETS
Shiver me timbers! It's time to hunt for treasure, but first you need some pirate clobber!
Watch the videos to find out how you can make your very own pirate hat, telescope and eye patch!
How to make a pirate eye patch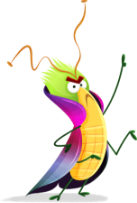 You'll be able to get anybody in your family that isn't recycling right to walk the plank when you're in your pirate clobber!